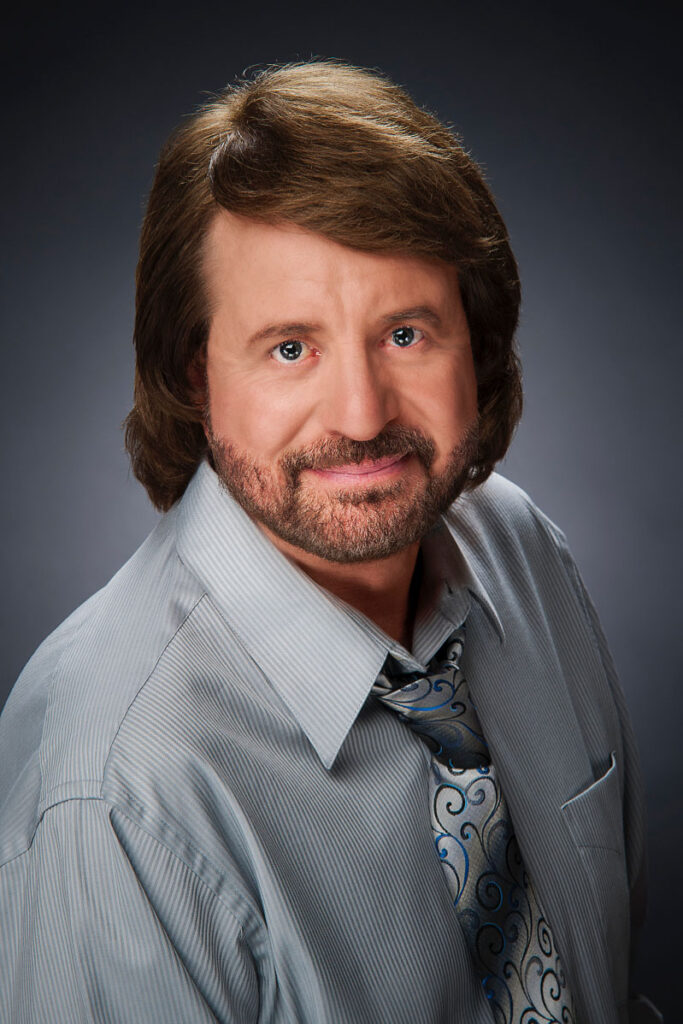 Gary Raffanelli

 

PRODUCER AND DIRECTOR
In 1979, Tony Orlando said to Gary, "When dreaming about your life and future, shoot for the moon… because even if you miss, you'll still be up there among the stars." That's how Gary has lived his life from day one. He was born in Richmond, CA (near Oakland), the son of a Chevron machinist and homemaker wife. By watching TV shows like "The Ed Sullivan Show", Gary at 6, was inspired to play the accordion. At age 9, after 1 year of practicing, he was performing for PTA meetings and local events all over his hometown with his brother. Hearing the applause and receiving that kind of attention became an addiction that would turn out to be life-long.
Gary started his first band at age 12. By 14, he joined his brother's band "The Vandells". They became so popular that they toured the Orient during his high school senior year. One month after graduation, Gary was working Harrah's Reno & Lake Tahoe. He dreamed of starting his own show band. He teamed up with Sandy Selby in 1973 to form one o­f the most popular groups Nevada had ever seen, and touring coast to coast throughout the 80's & 90's. Gary produced 4 of the 5 albums they recorded. Branching out was the next step.
In 1992, Gary became an entrepreneur creating Slam Grand Piano Company. The concept was a light weight, easily movable piano that would never go out of tune. The company is in its 22nd year and has built pianos for stars like Taylor Swift, Madonna, Maroon 5, Carrie Underwood, Hall & Oats, Tom Petty, Alicia Keys, Black Eyed Peas, Kid Rock, Celine Dion, Brian Wilson, David Foster and more.
Gary (who bears a striking resemblance to ABBA's Benny Andersson), not only enjoyed the music of ABBA, but had the opportunity to see ABBA live in September of 1979, and remains a true fan of their sound. To recreate one of Rock & Roll's greatest groups, he called on his partner, Sandy Selby (who has a 4 octave range), to help the dissection of the vocal parts.
Every musical note would also have to be transcribed and replayed into a computer. All the parts were assembled and compared to the original ABBA tracks for accuracy.
Gary's wife Jeanene, and their children, Ben, Casady and Garrett, were blessed with the patience and the eyes to see the vision of their husband/father's dream and allow him to freedom to passionately work for that goal.
Susan Campbell ("Agnetha")
Susan was born and raised in Thunder Bay, Ontario, Canada. She studied music at the Royal Conservatory of Music in Toronto. She started her singing career with "Cool Change" band, led by Canadian Music Rock & Roll Hall of Fame Honoree, Tommy Horricks for 7 years. She toured the world, including exotic destination such as Dubai, Egypt and Kenya. Susie, a songwriter as well, has had original airplay on various stations around the world, and was honored to have two of her originals picked to be in the movie, "Murderous Camouflage"
Susie's performances as ABBA's Agnetha include wowing audiences at the World Speed Skating Event in Rotterdam, Holland, the Hard Rock Café, Las Vegas as well as performing at the Edmonton Mall, host to Canada's largest club. Susie's featured appearances include the "Big Breakfast Show" in Calgary, and her talents were featured on Europe's "Star Pac" during one of many overseas tours. Susie also put together the "Susie Campbell Show Band" who toured extensively in the United States, Canada, cruise lines and venues worldwide. She joined her current position as Agnetha after meeting Gary Raffanelli through her colleagues, 8 years ago. Even recording star Gary Puckett was quoted as saying, "One of the best voices in the business!"
Lesley Green ("Frida")
Lesley Green has been performing since the age of 8.  As a singer, songwriter, actor, dancer, her first love has always been and continues to be music.  Though she has held starring and supporting roles in several independent films in Los Angeles and Denver, as well as hosted a local cable TV show, she is no stranger to the stage.  Starting young in her profession in musical theater, her numerous credits from Colorado to LA include: Phantom, West Side Story, Working, Camelot, Guys and Dolls, My One and Only, Unsinkable Molly Brown, On The Town and more. 
With over a 3-octave range, experience and study in nearly every vocal styling, it made it easier to widen her opportunities. Throughout her years in Denver, Lesley was the lead singer and songwriter in the band; Pieces, the Christian rock bands; Josiah and Sea of Glass, and in the a cappella jazz quartet; The Fourtunes.  Shortly after coming to Los Angeles Lesley was asked to participate as a singer and songwriter for a children's lullaby album. As one of the writers, producers and singers on Simple Harmony; Gentle Songs to Grow By, she and her co-artists were submitted, judged and considered for a Grammy in 2006. 
In 2009 Lesley started writing and singing for the Los Angeles based band Green Light while continuing her tours around the globe in the successful tribute band ABBACADABRA – "the ultimate ABBA Concert". To date, playing 'Frida' in ABBACADABRA is one of her favorite things on her resume!  Lesley lives in Phoenix, Arizona with her husband and her son from whom she gets most of her inspiration!  When not busy touring (which these days is not much ☺) she teaches voice, is a personal life coach and dabbles in writing children's stories.
Rich Hamelin ("Bjorn")
Toronto Singer/Songwriter Rich Hamelin is an international entertainer and multi-instrumentalist, specializing in vocals, guitar, keys and bass. His love for music began at an early age, singing and dancing to Elvis records at age 4, taking up the guitar at age 6, writing songs at age 11 and eventually studying string bass and composition at Canada's prestigious Humber College Jazz program. Rich has performed in many tribute shows over the past two decades, in a variety of roles. He has specialized in the role of Bjorn Ulvaeus in various successful Canadian ABBA groups, leading to the golden opportunity to play 'Bjorn' in ABBACADABRA!  In addition to performing, Rich is an accomplished Arranger/Producer/Director of the Canadian production: "Dreamer: The Supertramp Experience" and "Strange Magic: The E.L.O. Experience". He has also directed tributes to Neil Diamond, The Beach Boys and Frankie Valli.  To date, Rich has released six original studio albums, contributed his playing on the albums of other artists, and scored several short films.
Other noted highlights of Rich's career include:
Opening for B.J. Thomas in Ontario and having the opportunity to perform his own music as a part of the show.
Playing piano, acoustic guitar, harmonica and vocals alongside Terry Sylvester of legendary UK group 'The Hollies'.
Opening for The Beach Boys in Montreal and being invited onstage to sing along on "Surfin' USA".  
Rich is best known for his addictive smile, energy and charisma onstage. His love for music radiates to the audience and has gained appreciation around the globe!